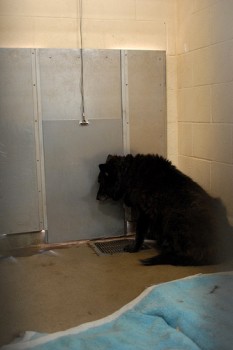 Some day we'll all be old.  Won't you please consider helping out this dog?
PLEASE consider helping save this poor depressed senior.  He is 10 years old and has lived his entire existence tied up in someone's backyard.  He was then dumped. He is now locked away in a cell and moments from being killed because – honestly – how many people go into a shelter to search out a senior? (Those that do – you are rare and so appreciated.)
This gentleman is morbidly obese from lack of exercise, and from eating all the leftover human food – waste – that was thrown to him. His spirit dejected, this old guy spends his days standing, facing the corner wall…nervous and scared because he has no idea where he is…and tragically probably longs for the one bit of yard and rope that he has known his whole life.
We desperately need someone who will foster him, so that we can save him.
We will bail him
– however –
WE WILL NOT PUT THIS DOG IN BOARDING.
So NOT an option, sure you understand why.
He will be euthanized any day now….we call every day to plead for an additional day for him. They let us know they cannot promise to do this again.
If you were to meet him, you too, would be moved by his big, shy self, and his old-soul eyes.
We pay for all food, medical and supplies…you will just need to provide a safe place for him, introduce him to nurturing, allow him to build the trust that you can see he wants to invest. You will be the one that shows him that there are those in the human race that are decent, consistent, and kind, as we work diligently to put his story out there, in pursuit of locating his permanent home.
PLEASE EMAIL us at:
Together we can show him everything he has never known.
Thank you.
Learn more about the dogs at The Mutt Scouts on their blog.
And if you want to learn about shelters in your area, check out PetFinder's shelter list.
Until next time,
Good day, and good dog!

Similar Posts: