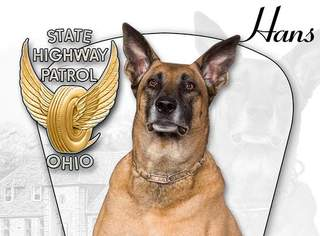 The Ohio State Highway Patrol lost a valued officer on June 3rd following a brief illness.  K9 Officer Hans was 12 years old.
Hans was a German Shepherd, born in 1999 in the Netherlands.  He became a drug-detection officer with the Highway Patrol in May of 2001.  Just two years later, he was honored by the American Police Hall of Fame with a Recognition Award for Meritorious Service. 
Hans has two Ohio Highway Patrol record-setting busts:    detecting 23 pounds of psilocybin mushrooms (the largest amount ever found at a single traffic stop) and finding $1,032,980 in cash (the most ever found in a single traffic stop).  In all, he helped seize nearly $60 million in total assets.
And he worked for kibble.
Our deepest sympathy is extended to Hans' handler, Tropper Romero and his family, as well as to the entire Ohio Highway Patrol family.
Until next time,
Good day, and good dog!
Similar Posts: