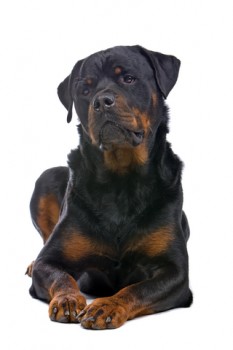 Happening upon a stray running the highway in Tennessee, Kathy Wilkes-Myers coaxed the emaciated Rottweiler into her car.  Kathy, a member of Love Me Tender Animal Rescue, didn't think the dog acted like a typical stray, so she set about trying to find her family.
She remembered seeing a bad one-car wreck along the same stretch of highway about 2 weeks before she found the dog, so she called the highway patrol and asked for the names of the people who had been in the car.
Turns out Ella had been thrown from the wreckage and assumed dead.  This dog spent two weeks policing the area around the wreck, gathering up personal items thrown from the car.  She had all of the items in a pile at the side of the road and may have been sleeping with them because they smelled like family.
Kathy will be keeping Ella while the family heals from the wreck, but a reunion is planned as soon as the family is able.
Until next time,
Good day, and good dog!
Similar Posts: