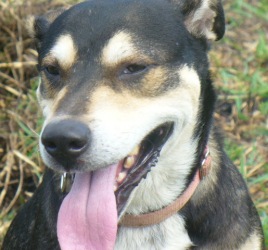 Meet Boing!  (What a great name for a dog.)  Boing is a Dobie / Lab mix currently residing at the Tasha Ohana Animal Sanctuary in Hilo, Hawaii.  Here's what the sanctuary has to say about this active dog.
His name is Boing as in boing-boing-boing. You should see him take a flying leap into the pond, going after a toy! He's a happy, happy dog, plays well with both dogs and cats! Swimming pool is a plus but not required.  Boing is neutered and up-to-date on routine shots.
I really like this shelter's "attitude", as well as the pets they have waiting.  Here's their adoption policy.  Makes sense to me!
Tasha Ohana is a no-kill cat and dog sanctuary on 14 acres of land in Hilo, dedicated to finding forever homes for loving, socialized pets. Browse the pictures we have on this website (we don't have all of them listed on this website yet), and call to schedule a visit and spend a little time with the animals, and see which dog or cat steals your heart. You can also let us know what personality and energy level you are looking for, and we will make some recommendations. Be sure to wear old clothes, because the dogs will come running to greet you. We match the adoption fees of HIHS, which are $65 for a cat and $80 for a dog. You can better see the personality and energy level of a pet when it is in your home, so we consider the first few weeks a trial adoption period, and the adoption fee is refunded if the pet is not the right fit for you, and you return the pet to us. Senior discounts apply. All pets are spayed or neutered, up to date on shots, and many are microchipped. We believe in the pet being part of the family, not just a toy for the kids or a burglar alarm. The dog or cat certainly thinks he/she is part of the family!
If you're on the islands, please contact Tasha Ohana to set up a time to meet Boing and all of his friends.  Call 808-959-4534.  They are located on the Big Island.
If you're not lucky enough to be in Hawaii, take a look at PetFinder's Shelter Center to find adoptable dogs near you.
Until next time,
Good day, and good dog!
Similar Posts: