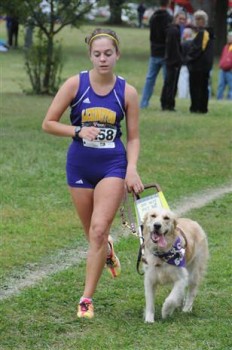 At Central Ohio's Lexington High School, it's not unusual to see Sami Stoner walking through the halls with her guide dog Chloe.  The pair is also becoming a regular on 5-K cross country trails throughout the region.
Teenager Sami Stoner rapidly lost her central vision due to Stargardt disease during her eighth grade year, soon after she had begun running on the cross country team.  When her vision went, it seemed her cross country career would soon follow, but a teammate agreed to act as her guide.  This worked until the teammate graduated at the end of Sami's sophomore year.
Enter Chloe, the wonder Golden Retriever. Chloe runs with Sami, keeping her from tripping over exposed roots and rocks.  Although the waiver that allows Sami to run with Chloe's help doesn't allow them to actually compete with others in the race, it does allow Sami to continue with her running passion, improving her personal best time to 29:53.
Read the whole store on MSNBC.
Until next time,
Good day, and good dog!
Similar Posts: