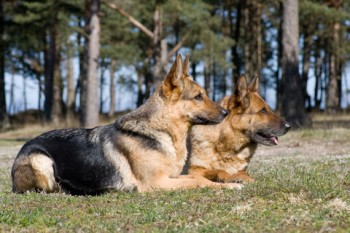 So, when your dog looks for a date, is he looking for more dates or better dates? Would he like to go out with another dog that matches his personality and interests or is he satisfied with any old dog he meets at the dog park?

Sounds like a commercial for an online dating service, right? Well, if you live near New York City or San Francisco, you just might get to take advantage of companies that really do this for dogs.
In NYC, they have MatchPuppy, where you might meet Mario, a young Bulldog who is described as the "life of the party" and apparently likes to party at Wolfe's Pond Park Dog Run.
Remington, a Golden Retriever on the site, is described as "The best playmate anyone could ask for and a stellar training partner as well! As with all goldens, Remy is a people-dog AND a dog-dog! He loves everyone and can brighten even the darkest day!"
If you're on the West Coast, San Francisco's SpotWag is a little different type of service. They say they're your alternative to a kennel or pet hotel, transforming your social network into a support network. Using Facebook, SpotWay helps you locate friends you already know who might be willing to care for your dog while you're away. Maybe best of all, you and the caregiver get to decide on how to pay – cash, karma, trade, etc.
Let us know if you try them out. I'm curious to see how it goes.
Until next time,
Good day, and good dog!
Similar Posts: