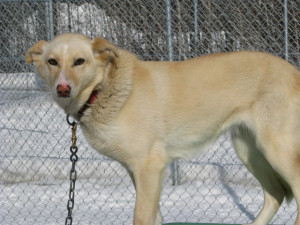 Meet Pippi! She is currently living in foster care with the Second Chance League, a shelter that gives discarded sled dogs a chance to succeed. Here's what their website has to say about this beautiful 3-year old Husky mix:

UPDATE November 21, 2011
Pippi is still quite shy and is a little difficult to handle because of her shyness. She loves to go and has been running both lead and swing. She is still a little nervous of cars on roads nearby and other people on the trail, but is getting much better. She is not super fast but plenty fast for most recreation or distance type teams.
MARCH 30, 2011
Our volunteers recently ran Pippi, and here is their report:
We ran Pippi in a 6 dog team today. She is a nice running dog with a good attitude. She IS pretty shy but warms up if you are quiet and gentle. On the way back we put her in lead and she did great. She would definitely need a steady leader with her that will go past things as Pippi hasn't been exposed to too many new things. But her potential is great. She is 3 years old. She is on the chunky side right now but has a good winter coat and I could see her wanting to spend time in the house as a pet too. Just a gentle soul that needs a kind home.
If you're going to be near Alaska or if you need an addition to your sled dog team, why not contact Second Chance League and ask to meet Pippi and her friends. Download an adoption application, drop an e-mail to [email protected] or call 907-451-0078.
If you're somewhere else, check out PetFinder's Shelter Center to locate adoptable dogs near you.
Until next time,
Good day, and good dog!
Similar Posts: