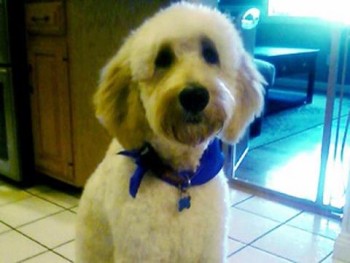 When Richard Giannetta heard his Golden Doodle puppy, Louie, barking incessantly, he knew he'd better investigate. He found the dog on his bed, barking at his pregnant wife who had recently laid down for a nap.
Richard tried to rouse his wife, then rolled her over on her back when she wouldn't wake up. He found her foaming at the mouth, having a seizure. Janelle was seizing because her blood pressure had risen dramatically due to a condition known as eclampsia.
Baby Charlotte was delivered by emergency C-section weighing just one pound, seven ounces. The whole family is said to be doing very well, in spite of the health scare. I'm thinking Louie will be looking forward to some extra love when mom and baby come home from the hospital!
Until next time,
Good day, and good dog!

Similar Posts: