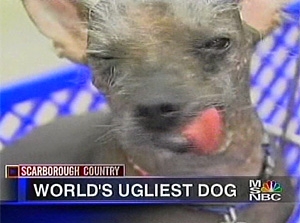 From Petaluma, CA:  Have you ever met a dog you thought was so ugly, you couldn't imagine why anyone would ever want him?  Apparently, you haven't met Gus, whose family, the Teeds of Florida, thinks he is just adorable, in spite of his winning the world's ugliest dog contest over the weekend.
Gus is a Chinese Crested, the dog with no hair, except a bit on his feet, head and tail.  This is the dog that doesn't even have enough teeth to keep his tongue in his mouth.  The dog whose name makes no sense, as they originated in Africa.  The ancient Aztecs kept them to use as footwarmers, and to, well there's just no nice way to say this, but they used them as appetizers.
Anyways, many of the dogs entered in the contest are hairless Chinese Crested.  Who knew there was actually a furry variety?  Gus took top prize, and he worked hard for his ugliness.  He lost an eye a number of years ago to a cat fight.  (Cats rule, dogs drool????)  More recently, he lost a leg to a bout with cancer. 
All joking aside, the cancer has come back, so we do need to keep Gus in our thoughts.
Until next time,
Good day, and good dog!
Similar Posts: