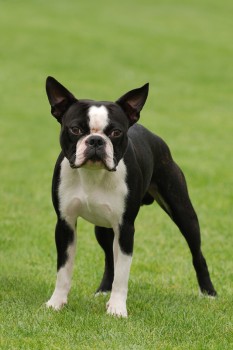 The Associated Press is reporting that street-sweeping truck cleaning a street in the Bronx sucked up a Boston Terrier as the helpless guardian held her leash.  The dog was killed by the machine.  The city's sanitation department calls it a "rare and unfortunate accident".  That's the understatement of the year!
Robert Machin says he is heartbroken by the loss of Ginger, one of two Bostons he lives with.   He questions the speed at which the truck was being driven, saying it seemed to be barreling through the street at an unsafe speed.
Machin and his friends chased the truck for over 2 blocks, yelling at the driver to stop, before they caught up with it and pulled Ginger's body from the sweeper bristles.
Our thoughts are with you at this difficult time, Mr. Machin.
Until next time,
Good day, and good dog!
Similar Posts: