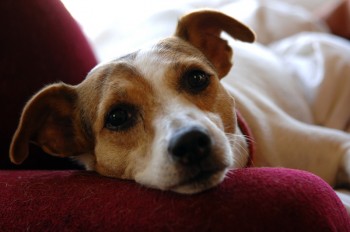 Don't you just love it when you find your dog with a half-eaten slipper hanging out of his mouth, and he gives you this look like, "Honest!  I didn't do it!"  Yeah, right.  Here's a new twist on that theme.  Even the headline stretches credibility:  "Man Accused of Shooting Dog Says K-9 Shot Itself"  Yeah, right. 
According to a story in the Denver Post, Patches, a Jack Russell terrier mix, was shot in the head by his neighbor.  Patches' human friend, Marlys Duggan, took the dog with her to visit her neighbor across the street several times a week.  The neighbor, Ryan Hayes, appeared to like Patches, with the dog often tagging along at his heels when he left the room.
On this particular day, Hayes went to the refrigerator to get another beer, then went into his bedroom with Patches following close behind.  After hearing the shot, Duggan walked into the bedroom and found the dog's body.
The first words out of Hayes' mouth?  "I didn't do it.  The gun was on the floor, he was playing with it."  Yeah, right.
After consulting with her veterinarian, who says the gunshot could not have been self-inflicted, Duggan called police.  Hayes has been charged with possessing a weapon while  under the influence, animal cruelty, and reckless endangerment.
Let's hope the judge throws the book at him!
Until next time,
Good day, and good dog!

Similar Posts: