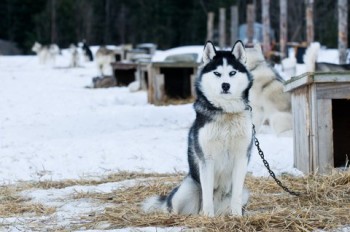 Several news sources today had articles about the inappropriateness of keeping your dog chained outside. 
Think about it:  if you are using your dog as a guard for your home, how can he protect anything if he can't get loose from the tree to which you have him tethered?  And if your dog is a companion for your family, how much joy does he bring you (and how much joy does he have in his life) if he's constantly outside?
Now, there's certainly nothing wrong with using a chain to keep your dog from roaming the neighborhood, but many Humane Societies are seeing a disturbing trend of dogs being chained outside all day, every day.  For some dogs, it's even 24/7.
In most states, the minimum requirements for an outside dog are some sort of shelter, as well as food and water.  Is this really the life you want your dog to lead, meeting only the minimum standard?  Dogs love to be around people.  They thrive on attention and interaction, which is hard to get when you're confined to an area no longer than your chain.
 To drive home the point, the Central Oklahoma Humane Society is having a "My Life As A Dog Challenge".  Eight people will be chained to large dog houses, and the one who lasts the longest wins a car.  (Did you catch the pun in that sentence?  I worked hard on that one!)
I'm thinking I'd make it about 10 minutes – how about you?
The goal of the contest is to raise awareness of the dangers posed by chaining a dog outside interminably:
Chains are a hazard to dogs and to the people around them.
Chains can choke, strangle or cut dogs, and if the tether becomes tangled, the dog can be cut off from food, water and shelter.
The dog can become vulnerable to harassment from people or attack from other animals.
Chaining also changes a dog's personality, making it more likely to be aggressive. My dog's personality changed after just a few minutes on a chain.
If you use a chain for your dog, please spend some time thinking about how long you leave him outside, and whether there are other options you can use to keep him in your yard.
Until next time,
Good day, and good dog!

Similar Posts: