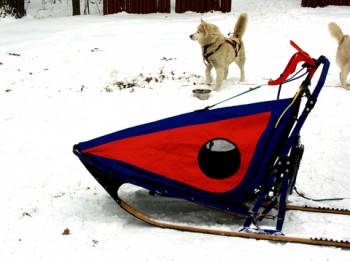 Most of the top ten race teams have either arrived or left the Nulato checkpoint, 393 miles from the finish line.  With today's Nome temperature again well below zero (-28 last I checked), I know they're thinking 393 miles is about 392 miles too long!
Here are the current standings for the top 10 mushers from Iditarod.com:
In other news, Justin Savidis made the hard decision to scratch from the race in McGrath following the loss of Whitey, one of his prized sled dogs.  He has joined local residents and race officials in a continuing search for the dog.
Tom Thurston scratched at the McGrath checkpoint with 9 dogs remaining on his team, citing his team's performance as the reason for the drop-out.  Karen Ramstead also scratched at McGrath for "personal reasons."  She still had 14 dogs on her team.
At some point during the race, each team must take a 24-hour rest break.  The official site of the Iditarod has an excellent article on what happens during that break – very informative and worth the read for fans of the race.
Until next time,
Good day, and good dog!
Similar Posts: