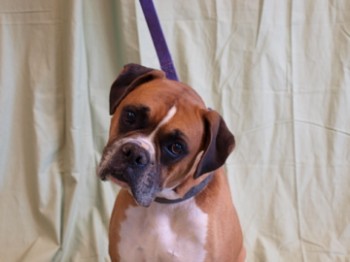 Meet Thor!  Nine-year old Thor is a boxer living under the care of Boxers and Buddies in Reno, Nevada.  They note that he is good with dogs and kids, but they've never tried him around cats.  I just love his curious face!  Here's what the good folks at Boxers and Buddies have to say about him.
If you know boxers at all, you know not to be fooled by Thor's age. Those of you not familiar with boxers, are in for a big surprise. Boxers don't mature. They're energetic, playful puppies until the day they pass on. At 9 years old, Thor could easily pass for 3.
Thor is happy, playful, sweet and loving. He really wants to please you and love you and be part of your family. Please don't discount Thor. He deserves to be loved.
If you're going to be in the vicinity of Reno, contact Boxers & Buddies via e-mail to info AT boxersandbuddies DOT com or phone 877-233-5738 to learn more about Thor and his friends.
If you're not near Nevada, check out PetFinder's Shelter Center
Until next time,
Good day, and good dog!
Similar Posts: