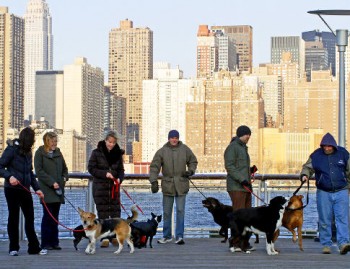 While I was looking for a topic for today's post, I came across two articles, both published today, but from opposite coasts.
In San Francisco, the Golden Gate National Recreation Area has just unveiled a draft proposal for bans and restrictions on dogs in certain areas of the park.  Each area of the 75,000 acre park is being considered separately.  For example, Muir and South Rodeo beaches would ban dogs altogether, but Homestead Hill would allow leashed dogs.  
Dog owners are protesting the proposed plan, which is open for public comment until April 14th.  There's even a Facebook page dedicated to allow those who feel passionately about the issue to be heard.  
At issue, of course, is the fact that the bans and restrictions penalize all dogs and their owners for the sins of a few who can't or won't control their dogs in the park. 
One particularly controversial provision of the proposal calls for further restrictions if the park service finds that less than 75 percent of dog walkers are in compliance with the leash laws at the end of one year.  So, for example, if enough people walk through the park and pass from an off-leash area to an on-leash area without putting their dogs on leashes, dogs might be totally banned from the on-leash area for good. 
Comments about the proposal can be posted on the National Park Services' web site, and concerned citizens are encouraged to attend one of the upcoming Draft Dog Management Plan Open Houses:
March 5: 11 a.m. to 4 p.m., San Francisco State University, Seven Hills Conference Center, State Drive, S.F.
March 7: 4 to 8 p.m., Fort Mason Center, Building A, Marina Boulevard at Buchanan Street, S.F.
March 9: 4 to 8 p.m. at Cabrillo School, 601 Crespi Drive, Pacifica.
On the flip side of the coin, residents of Queens are rejoicing that Gantry State Park  in Long Island City has recently lifted their restriction on dogs.  For a six-month trial period, Pier 4 will be open to dog walkers from 7:30 a.m. to 9:30 a.m. and then again from 6:30 p.m. to 8:30 p.m.
Members of DOG LIC,  who championed the change, are encouraging dog walkers to be responsible, keeping their dogs under control and cleaning up after them, so that the pilot program will be deemed successful enough to continue. 
I absolutely loved the above picture from the NY Daily News, and just had to show it to you.  Don't these dogs look like they're having a ball?  Some of the best times I've had with my dogs have been at dog parks, so I am totally in favor of allowing more dogs access to parks.
Until next time,
Good day, and good dog!
Similar Posts: