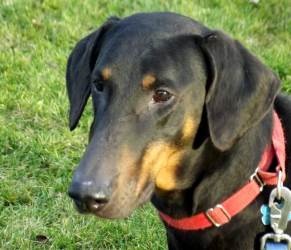 Meet Ben! This beautiful, natural-eared Doberman is being fostered in Clinton, Michigan by Second Chance Dobes. Here's what their website has to say about him:
Ben is a black and tan, natural eared, male, four year old, Doberman. Ben is such a sweetheart! He gets along great with the other dogs and lived with a female Dobe in his prior home. Ben was a beloved family member but circumstances forced his family to turn him in to us. Ben is housebroken, will sit and will come when called. However, he does need work on walking nicely on a leash. Ben is also about 10 lbs overweight and is on a diet in his foster home. We are sure with a little less kibble and a little more exercise, the pounds will fall right off him. Ben loves to cuddle and you can see his Dober "smile" in the video. If you would like to come home everyday to a big, happy, grinning boy who is thrilled to see you, please fill out an application to meet Ben.
If you're near Michigan, why not contact Second Chance Dobes and ask to meet Ben and all of his friends.  Send an e-mail to [email protected] or [email protected]

If you're somewhere else, check out PetFinder's Shelter Center for adoptable dogs near you.
Until next time,
Good day, and good dog!
Similar Posts: