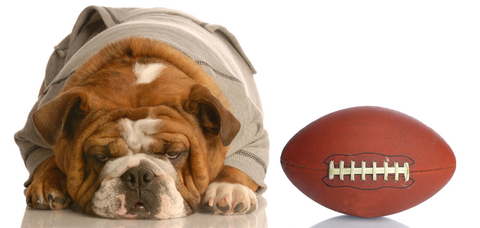 Most of these are from this year, but there are a few from archives of previous years.  You'll note there are a lot for Doritos – not necessarily because I like Doritos but because they held a contest for their fans to create ads, and there were many to choose from.  I'm sure not all of them made it to air, but the top 20 are on the Doritos website for your enjoyment.

10.  Skechers:  Pug wearing Skechers beats barefoot Greyhounds in a race.  There's been a lot of controversy over this one because of the dog-racing angle. 
9.  Subaru:  Dogs at the beach.  We showed you this one last week, but it's worth the replay. 
8.  Doritos:  Thief who stole a bag of Doritos is apprehended by a dog. 
7.  Volkswagen:  Barking dogs.  Kind of annoying, but cute – especially the howling Vizsla.  OK – I didn't get that they were barking the Star Wars theme, nor that it was a play on last year's Darth Vader-themed commercial.  Now it's a little more funny than annoying.
6.  e-Trade:  Stock-trading baby in time-out for riding on the dog's back. 
5.  Bud Lite:  House-sitter discovers the dogs of the house will bring him a beer.
4.  Bud Lite:  Rescue dog named "Wego" brings a beer when you say "Here Wego!"  (Kind of the same theme as #5, which was from last year, but this one involves a rescue dog, so it's inherently better!) 
3.  Doritos:  Humans completing a dog agility course in order to win a chip. 
2.  Volkswagen:  Dog getting into shape so he can chase a VW Bug.  I have to confess I didn't know that the Star Wars stuff at the end was part of the same commercial, but apparently it was. Clearly VW is not marketing to people who are as out of touch as I am!   
1.  Doritos:  Dog uses a bag of Doritos to buy a man's silence about a cat the dog buried.
Until next time,
Good day, and good dog!
Similar Posts: