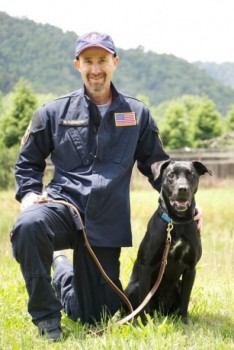 Hayden started out his life with a family who didn't know much about dogs. They didn't like his barking, so they wrapped wire around his muzzle. Then he did something they really didn't like, so they kicked him out of their home. But life began looking up soon enough for Hayden.

He was taken first to the San Luis Obispo County Animal Control, then was moved to the Woods Humane Society. Volunteers there worked to make him ready for adoption, and found out in the process that Hayden was a pretty amazing dog.
He never let his past beat him down, and remained a happy, energetic young dog. Shelter workers contacted the National Disaster Search Dog Foundation, who quickly adopted Hayden and paired him up with Mike Hargrove, a retired police officer in Texas.
Turns out that choice was providential because Hayden and Hargrove have been one team of many who are searching through the rubble at that fertilizer plant explosion in central Texas.
Seems like there may have been some masterful planning at work here, right?
Until next time,
Good day, and good dog!
Similar Posts: