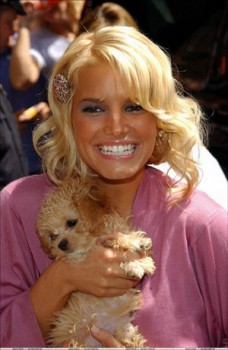 Not only did she recently break up with her boyfriend, NFL star Tony Roma, Jessica has now lost her Malti-Poo, Daisy, as well.
Actually, this is a very sad story.  Daisy was taken by a coyote right in front of Jessica's eyes!  She hired FindToto to help search, but to no avail.  They have recently announced that the search has been called off.  The dog, a present from Nick Lachey in 2004, has apparently left this earth.
Our deepest sympathies to Ms. Simpson.
Until next time,
Good day, and good dog!

Similar Posts: