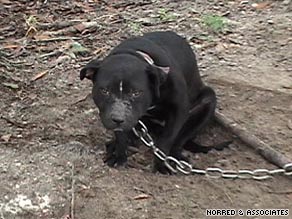 CNN.com is reporting on a raid carried out in Central Georgia at a home where they had received a tip that the owner was fighting as many as 60 dogs.  Turns out they found 97 dogs, some with what appeared to be fight scars.  Many were malnourished, and few had proper shelter or water. 
The good news in all of this?   A private investigation agency named Norred and Associates Inc. helped with the raid out of their founder's love for dogs.  From the CNN article:
Since the story broke about NFL player Michael Vick's dogfighting ring, Greg Norred has been donating his firm's time and expertise and his own money to rescuing dogs.
"I'm an animal lover. I've always been an animal lover. And in the wake of the Michael Vick case, I always thought there might be something I could do about animal cruelty, and with the type of business that I'm in and the resources that I have, it seems like dogfighting is the best vehicle that I can use to do something about animal cruelty."
In the past two years, Norred's team has volunteered for at least 16 raids. They've helped put 20 people behind bars and saved 200 dogs. Make that almost 300 after this most recent raid.
Kudos to the entire Norred team for their help! 
To the rest of you:  see what just one person can do when you set your mind to help?
Until next time,
Good day, and good dog!
Similar Posts: