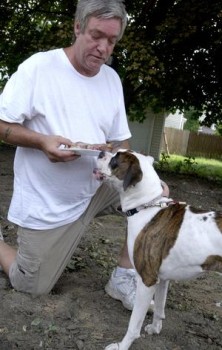 Late last week, three homes were damaged in a fire here in Canton.  Inside one of the homes, a 52-year old man slept off "a few beers" he'd had at the Pro Football Hall of Fame Enshrinement Festival Ribs Burnoff that evening.
Fortunately, the man had Daisy Mae on the job.  This boxer knew exactly what to do.  She began licking the man,  nibbling on his fingers and jumping up and down until he awoke and escaped the fire.
Yesterday, Daisy Mae got her just rewards.  One of the neighbors whose home had been involved in the fire broke out the barbecue grill and threw a party in Daisy Mae's honor.  As guest of honor, the dog received a Porterhouse steak for her heroic efforts at saving her daddy.
Read the whole story in the Canton Repository.
Until next time,
Good day, and good dog!

Similar Posts: