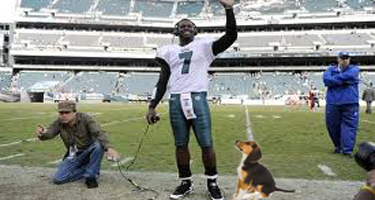 Michael Vick has gotten a new dog, even though the judge at his dog-fighting trial three years ago banned him from ever owning one again. If he has the nerve to hurt a beautiful Beagle, I might have to have a little face-to-fist conversation with the man.

I suppose a Beagle wouldn't be any good at fighting, so I think maybe it will be okay. (If not, I'm sure my threat above will give him pause!)
I do take issue, however, with the judge's reasoning for allowing him to get a dog after all. According to the Weekly World News, his reasons were purportedly as follows: 1) Though injured, Vick is doing well as an NFL quarterback, thrilling NFL fans with his play; 2) Vick has won over the hearts and minds of the citizens of The City of Brotherly Love; and 3) Vick's daughters really want a dog.
Really? Just because the guy's a good football player and the fans like him, he should be allowed to have a dog. Let's see: hmmmm…a proven history of animal cruelty and too many damaged dogs to count vs. the fact that he gets paid to play a game that he loves???? Not even close.
Until next time,
Good day, and good dog!
Similar Posts: