From the good folks at
weather.com
:
Temperatures will soar into the 90s for several days in many cities.
Record-high temperatures are expected from the Midwest to the Northeast into next week.
Humidity levels will also increase, making it feel even hotter.
Make sure your dog has plenty of shade and cool water while outdoors, check on them often, and let them stay inside as much as you can.
If your dog has to be outside, consider freezing some treats and small toys inside a bucket of water. Place the bucket in the shade, and they can find the treasures as the water melts.
All of the above strategies are even more important if your dog has thick or black fur.
If your dog is hairless, make sure you use sunscreen to protect his or her delicate skin.
GIVE 'EM A BREAK – BRING 'EM INDOORS!
Until next time,
Good day, and good dog!
Just a friendly reminder for those of you living under Arctic conditions this weekend. It's currently 13 degrees here in sunny Canton, Ohio, and Penny is keeping my lap warm for me!
Until next time,
Good day, and good dog!
I had to work really hard on today's title. My first thought was "Hot Dogs" which didn't seem quite right, then I thought of "Dogs in Heat" which was definitely not right. Anyways, I put up a copy last weekend of my friend's Facebook rant about dogs being left out in the hot sun, and it made me wonder how all of you are helping your dog handle the dog days.
[Read more]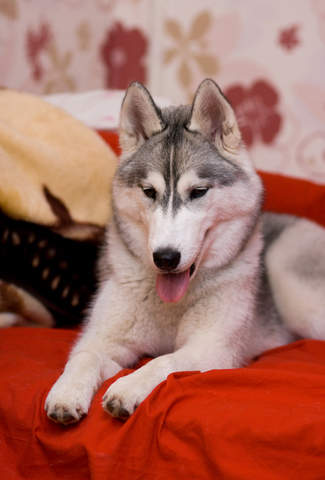 If you are thinking of adding a dog to your family, please make it an indoor dog. Even if you have to keep your dog in a crate sometimes, he or she is better off living inside than outside. Here are some reasons why:
[Read more]
Written from the viewpoint of canine Johann, the Raise A Green Dog site offers the following advice for keeping your dog safe and happy during the winter months.