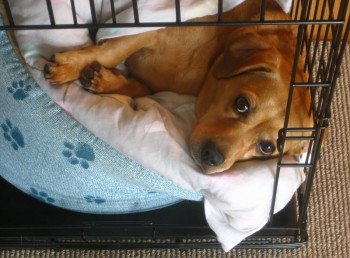 I cringe whenever I hear a well-intentioned person say, "I would never put my dog in a cage." That statement comes not from a well-informed perspective, but rather from our having grown up going to zoos and seeing the animals behind bars, primarily to protect US from THEM. A crate is just the opposite… it's main purpose is to protect the dog from us!

Dogs are a den animal. Dogs inherit their "den" nature from their distant ancestor, the wolf. Wolves create a den in a cave so they can rest in a safe, secure place… where no predator will stumble on them while they are not alert. Our modern day dogs value a crate, their "den", as a place where then can go and no one will accidentally step on them (why do you think they like to jump up on furniture when we're not looking?) and no well-meaning but perhaps not-so-gentle children's fingers can poke them in the eye.
If you start early enough, a crate can be a huge asset in your housetraining program. Puppies, like wolf cubs, instinctively will not soil the area where they eat and sleep.
So, remember, to your dog, her crate is her den, not her jail cell!
Similar Posts: