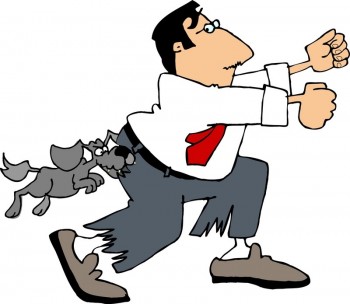 I think most of us would agree that dogs are not born aggressive, they are made that way by the environment in which they are raised.  However, there are some breeds that are more prone to aggresion than others.  The Daily Telegraph in Great Britain reports on a study published by Applied Animal Behavior Science, ranking 33 breeds of dogs according to their owners' answers to behavioral questions.
10.  German Shepherd – I thought this one would be higher, because of their use in police work.
9.  Border Collie – I can see this.  They face off against sheep much larger than they are every day.
8.  English Springer Spaniel
7.  Beagle – This one surprised me.  My beagle demonstrates every submission posture known to man.
6.  Pit Bull – Popular legend has it that these dogs are the most aggressive, but I guess they really aren't, if the study is on target.
5.  Australian Cattle Dog
4.  Akita – I had also heard these were dangerous dogs, like the pit bull.
3.  Jack Russell Terrier
2.  Chihuahua
1.  Dachshund – one in five owners reported that their dachshund had tried to bite strangers, and one in 12 reported that their dachshund had tried to bite them!
Tune in tomorrow to find out which dogs rank at the other end of the spectrum.
Similar Posts: