I'm not sure if she's scared or if she wants a longer bath!
May your weekend be filled with bubble bath.
Until next time,
Good day, and good dog!
In the course of my travels this month, I met a man named Tim who has a Great Dane puppy in need of surgery. The little girl, named Bijou, has Persistent Right Aortic Arch and Megaesopagus, which means she has a very hard time eating. Tim has to grind up her kibble, add water, then spoon-feed her four times a day. Without surgery, the dog will likely succumb to pneumonia at some point. Tim recently lost his previous Great Dane at 9-years young.
[Read more]
Until next time,
Good day, and good dog!
Today, I promise: no heavy stuff from the news. Only cute, cuter, and cutest! First up, check out this itty-bitty Chihuahua playing with a Great Dane.
I love that the Great Dane keeps doing a little play bow, encouraging the puppy to keep it up!
Until next time,
Good day, and good dog!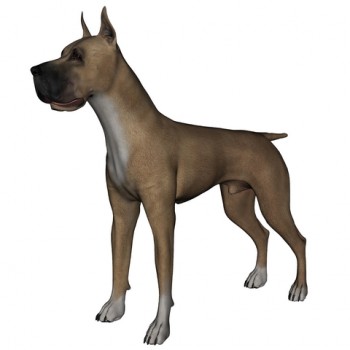 We took the kids to see Marmaduke this weekend, and all four of us loved it!  I had expected it to be more targeted to kids, and it did have its moments, but it was so much more.
The new Marmaduke movie is due in theaters June 4th.  Are you planning on seeing it?
OK, these look photo-shopped to me, but Hoax-Slayer says it's true, so I'm going to pass along this story.
Titan, a four-year old Great Dane from San Diego, has been named as the world's tallest dog, succeeding Gibson who passed away earlier this year after a brave struggle against bone cancer.