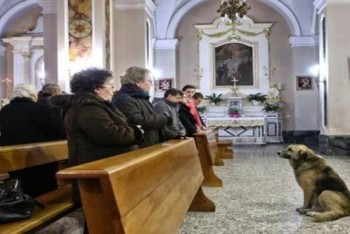 From Il Messaggero newspaper in Rome: When 12-year old German Shepherd Tommy's owner died early this year, he followed the coffin from their village to the church. Now, he can't get enough of the masses held at Santa Maria Assunta in San Donaci. He returns every day when the church bells summon, sitting through masses, baptisms, and funerals, according to Father Donato Panna, who doesn't know what he'd do without the dog's comforting presence now.
What a sweet story – yet another example of a dog's loyalty!
Until next time,
Good day, and good dog!